Dana White is unsure if UFC 249 can take place on 18 April
The UFC recently had to postpone all their fights up to UFC 249, but that may be out of the question too.
White postponed three UFC events but was adamant that 249 would take place. That sees Khabib Nurmagomedov vs Tony Ferguson, a fight that has been on the card four times.
Dana White didn't know whether UFC 249 would take place or not. The coronavirus pandemic had messed up all plans for the promotion to host fights, even with no fans, and UFC Brasil was the last one for a while.
However, it seems that Khabib vs Ferguson could be off for a fifth time and White has to make an even bigger decision.
Time to call-off all fights
There have been some suggestions that the fight will go ahead in another location, possibly out of the United States, but that doesn't make any sense.
Flight restrictions are in place in most countries and moving out of one country to another carries its own risks.
There is no surety when the pandemic will be in control as the US is certainly in the grip of the virus.
Thousands of cases are being reported every day and claiming that the fight can take place on 18 April is a major risk.
People need to stay safe and that is something that White said was a priority too. The UFC president has constantly said that people have to be kept safe, and it will be interesting to see what steps he takes place next month.
The right move would be to postpone all fights and not share any possible dates too.
White is still putting the details of the Khabib vs Ferguson fight on his social media handles, however, the UFC president should change that in the coming days.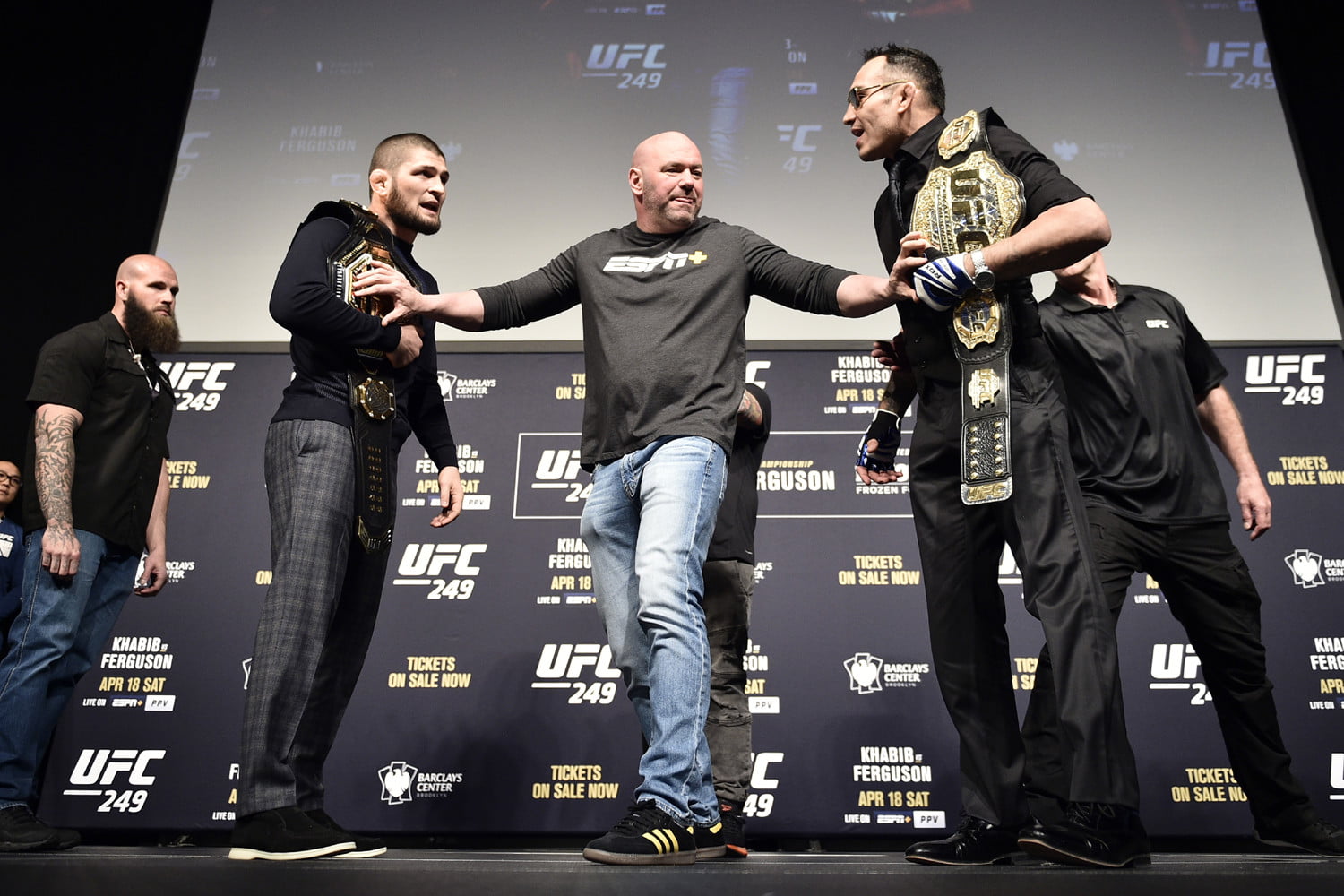 Khabib vs Ferguson seems to be a cursed fight. However, keeping such talk away, there is no real guarantee when things will return to normal.
The UFC has been lucky that none of their top stars have tested positive for the coronavirus. But, they cannot take risks with their top stars.
More UFC news
Follow our dedicated UFC page for instant UFC news and updates
Keeping fans on tenterhooks isn't a great move by White, but it might work if the fight takes place.
For now, it would be a miracle for things to return to normal by 18 April. Ferguson vs Khabib cannot be cancelled, but only postponed, for the fifth time.