Tony Ferguson faces Khabib Nurmagomedov at UFC 249 and had a scary fall during training
Tony Ferguson seems to be taking training seriously ahead of his fight against Khabib Nurmagomedov at UFC 249.
The 36-year-old is 25-3 in his 28 bouts and will provide a stiff test to the Lightweight champion. Nurmagomedov is unbeaten in his MMA career, and this could be Ferguson's biggest fight in several years.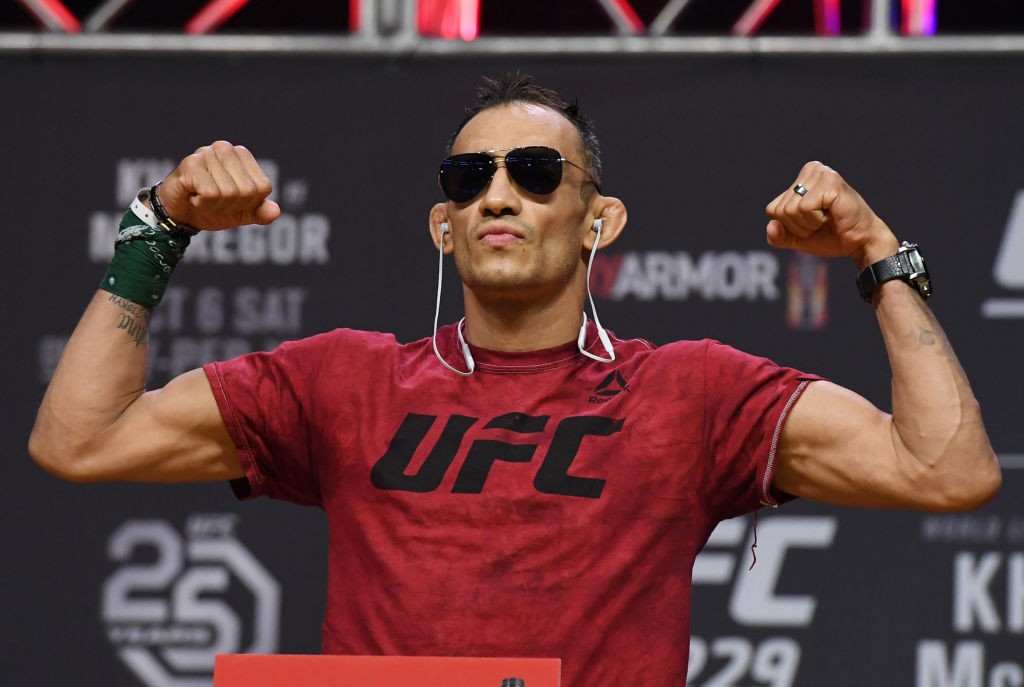 Both UFC stars have started training for the fight in April, taking things up a notch, and some of the methods are questionable, to say the least.
Staying fit for the fight has to be the priority for both fighters but one video from Ferguson got some fans worried.
The American decided to try running up a set of tyres, and it didn't go well the first time.
Ferguson could be seen tumbling down and falling on his shoulder in the first run, though he got back up and completed the training drill later on.
This could have led to a serious injury for the 36-year-old and he could have missed the fight.
Fortunately, Ferguson seems to be alright, and posted another video of him taking down a punching bag in impressive fashion.
"Collecting Coins & Sh!t"🕴-CSO- # SooooooooFassssst 💪🕶 # LevelUp # SnapIntuit 🌱 Have A Great Day Mi Gente 💯 🇺🇸🏆🇲🇽 Old Clip pic.twitter.com/Tt71nrEyqW

— Tony Ferguson (@TonyFergusonXT) February 19, 2020
Fans given a major scare by Ferguson
The 36-year-old could be the first fighter to hand Khabib a loss, and it would be an impressive feat.
However, many fans joked that the 36-year-old would miss the fight if he continued training like this.
''I hope Tony vs Khabib doesnt get cancelled this time''

Tony: 😎

— Bruno (@BrunotoriousMMA) February 19, 2020
— mr perfectionist (@itti_mma) February 19, 2020
Tony Ferguson is the type of guy who run over tires to condition his ankles

— Bogdan (@bogdanponocko) February 19, 2020
*Let's hope no one gets injured and we finally get to see this fight*

Tony Ferguson:

— NunC (@esivabbe) February 19, 2020
And people wonder why this fight isn't gonna happen.. god you scare me tony lol

— OversOnly (@Overs_Only) February 19, 2020
— Israel/MG (@TheMoment_tweet) February 19, 2020
You wanna year an ACL ? Cause that's how you tear an ACL.

— M (@MattMoore7) February 19, 2020
— MMA Hype Watch (@MMAHWatch) February 20, 2020
Dana White has confirmed that Conor McGregor would face the winner of this bout, and that would be a blockbuster event too.
The Irishman returned to the UFC with an incredible 40-second win over Donald Cerrone, and he seems to be back to his best.
More UFC news
Follow our dedicated UFC page for instant UFC news and updates