The 20-year-old Adil Kalyanpur was recollecting memories and his experience of training with Rafael Nadal
Future Indian tennis hopeful Adil Kalyanpur admitted how difficult it was to play against a player like Rafael Nadal during an interview ahead of the Bengaluru Open ATP Challenger which commenced on Monday.
During the interview, Adil shared some of his memories during his time at the Rafa Nadal Academy in Mallorca where he had spent sometime earlier to hone his skills. A young Adil had the opportunity to train under the watchful eyes of Toni Nadal (head coach) – Rafael Nadal's uncle and long-time coach, whom the youngster described as a genuine and humble person.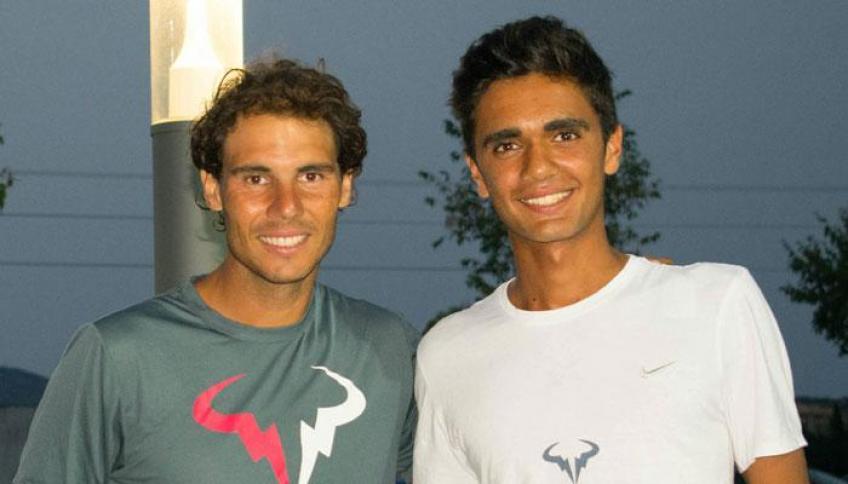 Moreover, Adil also had the rare chance of sparring with none other than Nadal himself, who according to him is one of the toughest players around in the game.
"He hits hard, deep, with a lot of spin. The second you lose a little bit of focus, you end up hitting the ball to the fence or out of the stadium," Adil said.

"You feel a lot of fatigue while hitting with him, but the adrenaline kind of keeps you going. It's a lot of fun. And he was not going easy at all. It was no mercy from his side," he said of hitting with Nadal.
"Very excited to play in front of the home crowd"
Meanwhile, local boy Adil said that he was very happy to play in front of the home crowd and felt confident about playing in the ongoing Bengaluru Challenger.
"I'm very excited to play in front of the home crowd, family and friends. I'm not putting any pressure on myself. I'm just going to go out there & give it my best shot. I feel really confident after the pre-season, working with Milos and others"." the youngster said.
He also shared his insights on the transition from a junior to a senior player, suggesting that it was a tough one.
"I think it's pretty tough. It takes 2-3 years at least to establish yourself in the pros. The players are stronger, fitter and hit much bigger. There are a lot of mental games involved as well. So, it's quite tough," he said.
More tennis news:
Follow our dedicated tennis page for instant cricket news and updates