Ferrari shared the livery for their 2020 F1 car and it looks like an exact replica of the 2019 car
Ferrari were the latest manufacturers to showcase the livery for their 2020 F1 car and it was brought out with a lot of fanfare.
Similar to what Mercedes had done with their car, it was a huge event with several stars from the Italian outfit present.
Charles Leclerc and Sebastian Vettel were also present as Ferrari presented their challenge for the 2020 F1 season.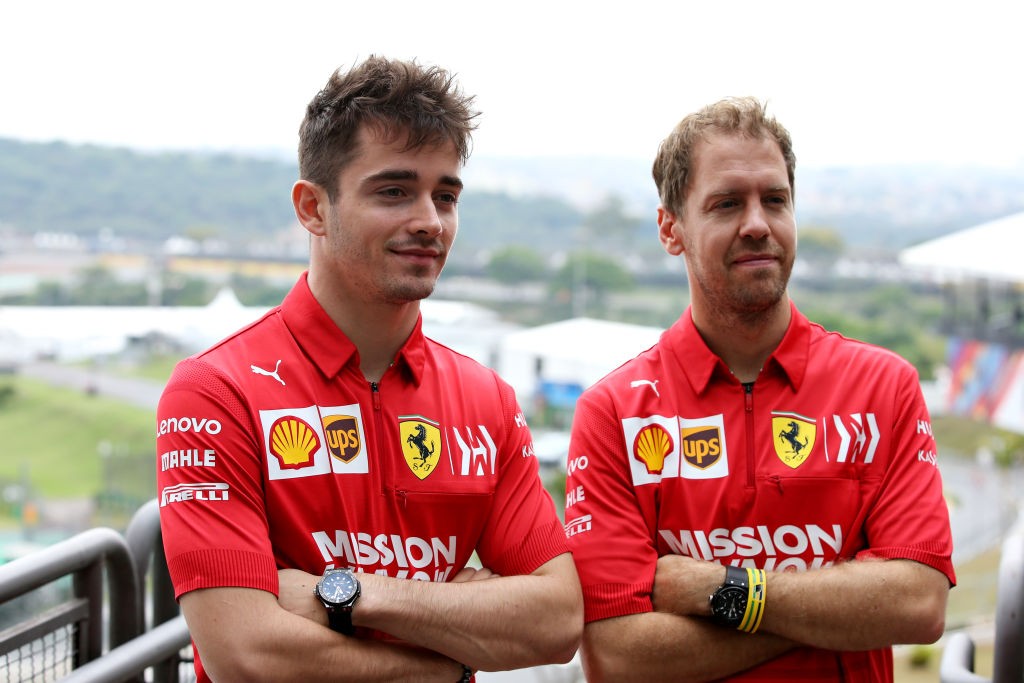 As expected, the Ferrari featured a huge hit of red with bits of black and several sponsor names littered onto the 2020 livery.
Ferrari, just like Mercedes, didn't make too many changes to their colour scheme but the team that finished second in the constructor's race didn't experiment either.
Mercedes, thanks to its new tie-up with INEOS, included a dash of red to some parts of their car, but Ferrari decided to keep things the same from the previous year.
The Mission Winnow logo, colour scheme and positioning on the car are identical from the last season. The same goes for all the sponsor logo placements, and even the colour of the halo is the same from the previous campaign.
Again, expecting something brand new is asking too much for a team that has so much history with the colour red, but they could have experimented a bit.
And finally… She's here 😍 #SF1000 #essereFerrari 🔴 pic.twitter.com/6JH30yMEwQ

— Scuderia Ferrari (@ScuderiaFerrari) February 11, 2020
Fans unimpressed with the lack of changes
Liveries are expected to get fans charged up for a season. McLaren, Racing Point and Red Bull have done great jobs by mixing things up with their liveries in recent years.
Red Bull have even used camouflage paint during some test sessions in the past, but Ferrari don't seem to be interested in all that.
Team principal Mattia Binotto did suggest that although the cars were the same, the SF1000 of 2020 and SF90 of 2019, there are a lot of technical differences between them (h/t Formula 1):
"The starting point was the car of last year, the SF90.

"But certainly we have been extreme on the concept as much as we could… It may look similar to last year but it's completely different to the one of last year, and a lot of the concepts are very extreme on [the SF1000]."
That still wasn't enough to get some fans on board as they were disappointed with the scheme:
— Berke Eyyamoğlu (@eyyamoglu_berke) February 11, 2020
— El Indomable Juanito Navaja ⎊ (@1Johnxy3) February 11, 2020
— Matt Bishop (@TheBishF1) February 11, 2020
— RUC (@liberoRUC) February 11, 2020
Our highest hopes for this season. pic.twitter.com/gbvRvNRHTC

— F1 Random Images (@F1RandomImages) February 11, 2020
And finally….ITS 2019 car…..

— Julian (@juliandean12) February 11, 2020
— Ameya Datar (@ameyalfcdatar) February 11, 2020
Ferrari haven't won a title since 2008 (driver's and constructor's) and they will find it hard to take on the might of Mercedes in the coming months.
Hopefully, the car performs better than it did in 2019, and Vettel and Leclerc enjoy more wins and take Ferrari to the top.
More Formula One news
Follow our dedicated Formula One page for instant Formula One news and updates