Novak Djokovic was asked to create his version of a perfect tennis player and Rafael Nadal featured extensively in it
World No.1 Novak Djokovic hailed World No.2 Rafael Nadal, admitting that the Spaniard had one of the best forehands in the game of all time.
Djokovic could not hide his admiration for Nadal's ability to combine top-spin and power which often helped the Spaniard to create pressure on his opponents and win games. The Serbian was asked to create his perfect Davis Cup player by the tournament's YouTube Channel, and it was his long-time rival Nadal, who featured extensively.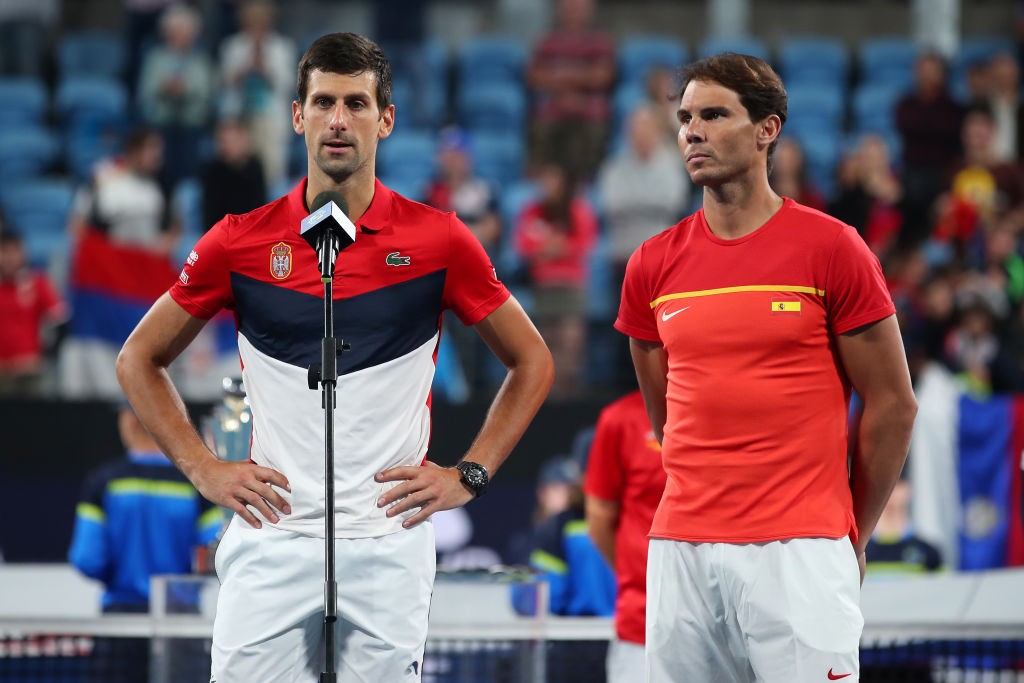 Nadal's name popped up quite a few times and it was clear that the Serbian considered the 'King of Clay' as a formidable opponent than the rest.
"I would choose Rafael Nadal's forehand. It has been one of the best forehands of all time, with heavy topspin or flat strokes. He can hit it from every part of the court and it is a consistent weapon that he uses to mount pressure on the opponent and also in the defence, to get back into the point," Djokovic explained.
He then added that he was a fan of Belgian David Goffin as far as backhands are concerned.
"As for backhand, I have to go with David Goffin; I like his two-handed backhand very much. He takes the ball very early and hits it flat, something that allows him to dictate the rally," said the 32-year-old.
Djokovic impressed by Canadians Felix Auger-Aliassime and Denis Shapovalov
Djokovic also said that he was impressed by young Canadians Felix Auger-Aliassime and Denis Shapovalov, who according to the Serb have huge potential.
"In terms of talent, I pick Felix Auger-Aliassime and Denis Shapovalov, both unique players in their way. They are young and yet to fulfill the expectations. Their potential is enormous and they have been playing very well, continually improving and with professionalism and dedication."
When asked about game mentality, Djokovic once again brought back Nadal into the discussion admitting that the Spaniard never gave up and had a great fighting spirit.
He then chose Frenchman Gael Monfils as the player with the best physical condition due to his flexibility and described him as a perfect athlete. Next came Nick Kyrgios, the Australian, who according to Djokovic was the best server around.
Despite being one of the greats of the game, Djokovic rarely picked himself but had to do so when asked who had the best return.
"I would have to pick me in the return segment," Djokovic replied.
Djokovic also made an unusual picking when he chose doubles guys Pierre-Hugues Herbert and Nicolas Mahut as players with the best volleys. Finally, he opined that a combination of himself, Nadal and the young Auger-Aliassime would make for a player with perfect footwork.
More tennis news:
Follow our dedicated tennis page for instant cricket news and updates