Roger Federer and Rafael Nadal were the two tennis stars at the 2020 Match for Africa while Trevor Noah and Bill Gates picked up the racquet too
Cape Town hosted the 2020 Match for Africa which featured top stars Roger Federer and Rafael Nadal while Bill Gates and Trevor Noah also showcased their tennis skills.
This annual event is held for the Roger Federer Foundation and the stadium was sold out ahead of the two matches.
Federer and Gates teamed up wearing all white and green while Nadal and Noah were the other team in the celebrity match.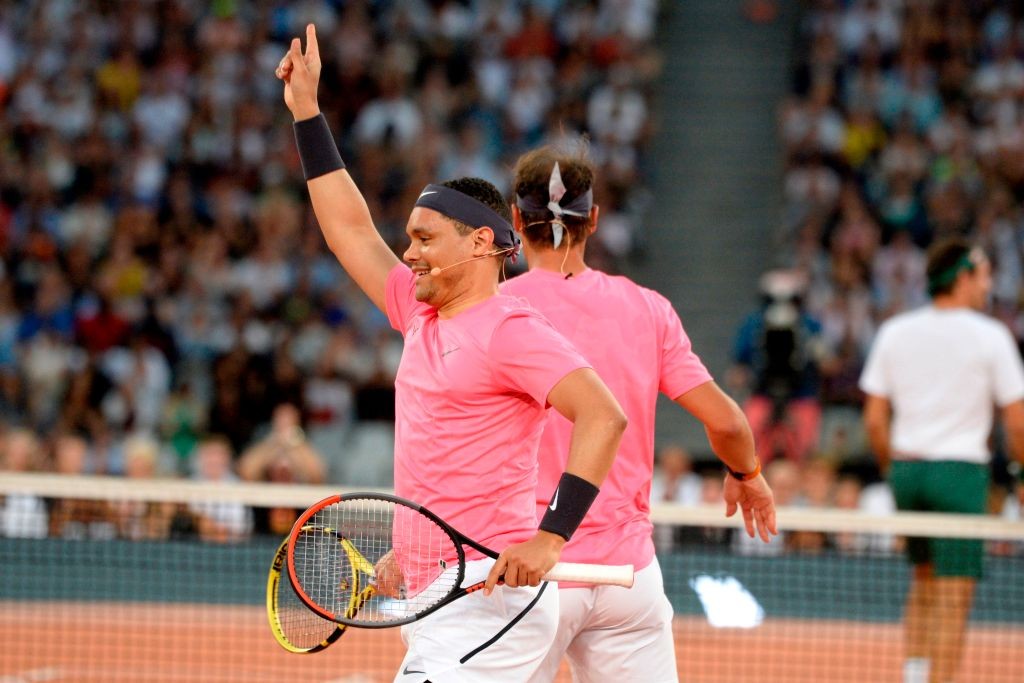 There were a ton of fun moments in the game with Noah and Gates struggling a bit to play their best tennis.
Federer and Nadal kept things simple, though they tried to get the crowd going with some great rallies from close range.
Noah, a comedian best known for his stint on the Daily Show, had one great moment too. The South African won a point against Federer and started zooming away in full speed which got the crowd laughing.
Nadal also had one of his unique 'tweener' shots while it was Federer and Gates that ending up winning the solitary set of the match 6-3.
This was just the appetizer for the main course as Federer and Nadal had a one-on-one duel later in the evening.
Federer wins another match
Although Nadal and Federer have had a long-standing rivalry, the pair have teamed up for noble causes.
Federer has played in Mallorca to help a foundation run by Nadal, and the Spaniard was more than happy to come for this one too.
This match was a closer contest though. The pair didn't play at their full potential but still got the crowd cheering on as they put on a show.
Federer won the first set 6-4 but Nadal came racing back to win the next one 6-3. However, it was the Swiss star that won the final set and the match 6-3.
Surprisingly, Federer is yet to lose in the Match for Africa, but the result isn't important in these games.
Federer and Nadal also put on a great show for the fans and it couldn't have been a better end to the night than with Fedex winning the match.
More Tennis news
Follow our dedicated Tennis page for instant Tennis news and updates