McLaren star Lando Norris wanted to see on race in particular when Drive to Survive Season 2 comes out
Lando Norris is one of the rising talents in the F1 paddock but the McLaren star is one of the best on social media too.
His Instagram account is filled with memes and he isn't one to give up the chance to have a go at a rival.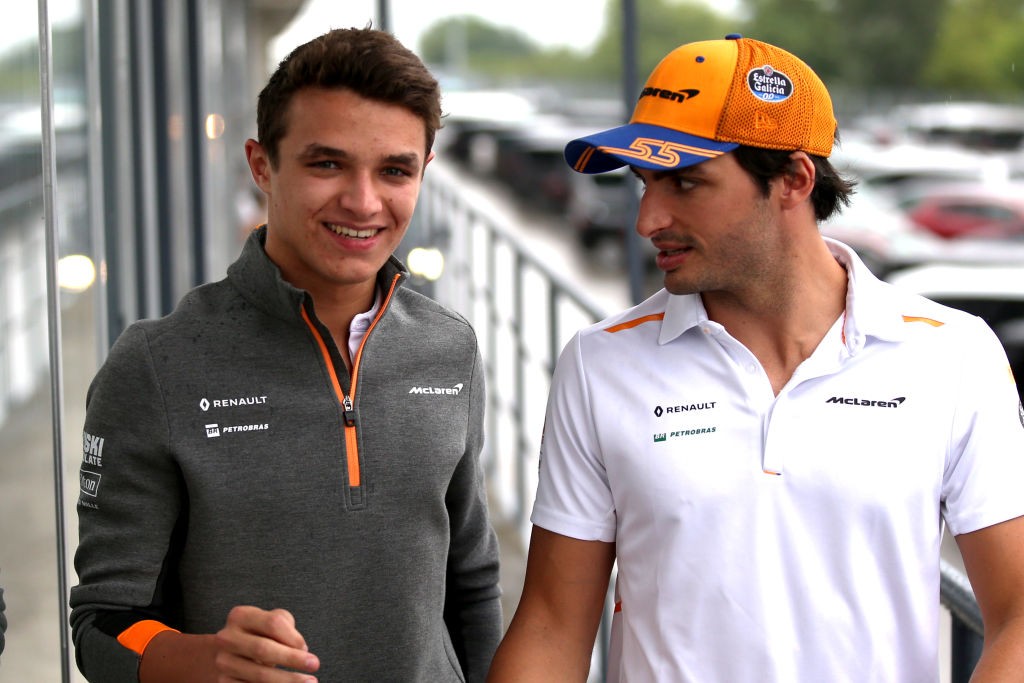 We saw that when he bumped into Alex Albon after the Red Bull star had knocked him out of a race, but this was just some friendly banter after the end of the weekend.
Norris had some fantastic races too last season but it was his teammate Carlos Sainz that got McLaren's only podium in the Brazilian Grand Prix.
That was a crazy race as Lewis Hamilton was demoted from his third place after he hit Albon in the final laps.
What are @LandoNorris and @Carlossainz55 most looking forward to seeing in #DriveToSurvive season 2? 🤔

(Sorry, @MercedesAMGF1 😬)#F1 pic.twitter.com/vEEMJFPFQ2

— Formula 1 (@F1) February 5, 2020
These are some of the topics Drive to Survive Season 2 will touch upon and the McLaren pair were asked what they wanted to see in the new show.
Norris, quick as a flash, responded "Hockenheimring, Mercedes!" to which Sainz started chuckling.
For those who missed out on the joke, this was possibly the craziest race of the decade that saw many spins, slips, crashes and major mistakes.
Hamilton made one where he lost his front wing, cut across the grass, got a time penalty and lost the chance to win the race.
Valtteri Bottas looked good for a win too until he messed it up on a wet track and had to retire.
Many fans loved Norris' answer and wanted to see what Mercedes had to say regarding that race:
I wished you would have shown us Lando's reaction when Carlos called him the new star of the show! pic.twitter.com/x3r5pxUge8

— Mr. Pigz (@MisterPigz) February 5, 2020
*Mercedes announce cancellation of engine deal with McLaren*

— Scott Lillico (@Scott_Lillico) February 5, 2020
We all are excited to see HOOOCKENHEIM

— rie the bucket hat goat (@High5Forever) February 5, 2020
— ヴィカス・メノン (@ghostrager1990) February 5, 2020
HOCKENHEIM YAAASS WE ALL WANT TO SEE THIS

— 𝚟𝚒𝚝𝚝𝚘𝚛𝚒𝚊 (@flamesofl0v) February 5, 2020
— Daniel Philpott (@DanielPhilp0tt) February 5, 2020
Obviously!! But also the Brasil race… omg!!

— 😀 (@stijnweijters) February 5, 2020
Hockenheim 2019 is a pure highlight. Cannot wait! 😆🏁👍

— Elton Lam (@walkingleaf79) February 5, 2020
Hamilton waiting for his pit crew to change the front wing and the tyres pic.twitter.com/x3faY8QT6n

— Vincent Magnarella (@vincemags) February 5, 2020
Sainz provides a measured answer
The Spaniard has always looked like the more measured of the pair and provided an answer experienced from a seasoned campaigner.
Sainz wanted to see how Ferrari and Mercedes did given that this was the first time they allowed the Netflix cameras behind the scenes.
He also ended with a cheeky response as Norris was the "star" in his debut Drive to Survive season.
The 2019 German Grand Prix was incredible for all the thrills and spills. Sainz finished fifth but it could have been more had he not gone off the track early on.
The race was won by Max Verstappen with some great driving in tricky conditions.
More Formula One news
Sebastian Vettel finished second in Germany after starting 20th and last while Daniil Kvyat got the final podium place in one of the shocks of the season.
Follow our dedicated Formula One page for instant Formula One news and updates