Three emotional moments that have defined the Premier League
Over the course of 25 years, the Premier League has seen many memorable matches and many unforgettable goals but they will be recorded elsewhere.
Those single minutes that so infused these goals and games were brief enough a moment to be simultaneously self-contained and sensational but also had a significance and importance that reflected and influenced something so much bigger than themselves.
There are moments that mean so much to the very history of the Premier League. Here are 3 emotional moments in recent times in the English top tier.
Steven Gerrard's infamous slip
A Liverpool legend, Steven Gerrard is a footballer with a career that 90% of footballers would love to have. And yet, outside of Anfield, his playing career is probably best remembered for one small slip.
Liverpool are the second most successful league team in the history of English football but in the Premier League era, they have never got their hands on the title so far. To win the league for 28 years is a massive deal.
Back in 2014, they had the best chance of putting that right. Brendan Rodgers built a team of incredible attacking quality led by the three-man line up of Luis Suarez, Daniel Sturridge and Raheem Sterling.
With three games left, Liverpool were embroiled in a match against title rivals Chelsea. The Reds had gone on an 11-game winning streak and were five points ahead of the Blues and three points clear of Manchester City, who had a game in hand.
A draw would have been a good result and a win would have knocked Chelsea out of the race for the league title. But Jose Mourinho went full Jose and set up to frustrate Rodgers' side. The Blues did their best to frustrate Liverpool with a deep defensive line and time-wasting from the off.
The seminal moment for Gerrard's career and the title race came as the half was ending. In injury time, Gerrard failed to control a pass by Mamadou Sakho and slipped trying to rectify the mistake. It allowed Demba Ba to latch onto the ball, running through unopposed to open the scoring.
Liverpool would go on to lose the game 2-0 after another counter-attack goal in injury time – this time from Willian in the 94th minute. The Reds had another chance to keep control of the league title eight days later when they played Crystal Palace. City's game in hand meant the title could go down to goal difference.
Liverpool looked good as they opened a 3-0 lead over Palace but in the most dramatic fashion, Palace battled back to earn a draw after goals in the final few minutes.
Aguero's dramatic winner
With the clock ticking agonizingly towards full-time on May 13, 2012, the red half of Manchester were eagerly anticipating celebrating a 20th league title at the Stadium of Light.
The 'noisy neighbours' Manchester City were trailing 10-man QPR 2-1 heading into injury-time on the final day of the season, while United had beaten Sunderland, thanks to Wayne Rooney's first-half goal. But with a first Premier League title seemingly slipping from City's grasp, Edin Dzeko equalized in the 92nd minute to give them a glimmer of hope and ensure an anxious wait for United fans some 137 miles away on Wearside.
City's players and supporters travelled from one end of the emotional scale to the other in those vital seconds, providing a truly remarkable piece of football theatre and the most dramatic conclusion to a season in Premier League history. Roberto Mancini's side needed a victory to clinch the elusive prize since 1968 and took the lead through Pablo Zabaleta shortly before the interval.
Djibril Cisse levelled for QPR soon after the restart before the visitors lost Joey Barton when he was shown a red card against his former club following a clash with Carlos Tevez.
QPR shrugged off their numerical disadvantage to reduce the Etihad to stunned silence when Jamie Mackie gave them the lead with a far-post header in the 66th minute. City set up permanent camp in QPR territory but appeared condemned to their worst nightmare of losing the title to arch-rivals United in the most painful circumstances as keeper Paddy Kenny rode his luck to produce a string of saves to ensure they held firm in the face of an onslaught.
Dzeko rose to head the equalizer before Aguero showed great clarity of thought and composure amid the mayhem to drive into the area and beat Kenny with a powerful low finish.
The Etihad was a sky-blue explosion of joy and relief in an outpouring of 44 years of frustration as Aguero wheeled his shirt above his head in celebration and Mancini, who cut an increasingly frantic figure as time ran out, raced on to the pitch – accompanied by backroom staff including Brian Kidd and David Platt – in ecstasy.
As Mike Dean's final whistle blew, the reality dawned on City as they capped a run of form that saw them overturn United's eight-point advantage in the space of five weeks.
Leicester win the Premier League
In the history of the Premier League, every champion had finished in the top three the previous season. On average, winners were placed second before their subsequent win. In contrast, Leicester finished 2014/15 in 14th, 46 points adrift of league winners Chelsea. Their remarkable escape from relegation wasn't a traditional platform for a title challenge.
It wasn't until a 3-1 win at Manchester City in February when thoughts of a sustained Leicester title challenge began to gather credence.
A last-gasp defeat to Arsenal next time out was billed as a potentially fatal blow to Leicester's unlikely hopes – but their response was admirable. They took 23 points from the next 27 available. Leicester went on to become the first first-time winners of the English top-flight since Nottingham Forest in 1978 – marking a title win out of nowhere.
Leicester City went to Old Trafford looking for a win over Manchester United to secure the Premier League title. As it turned out, both sides settled for a draw.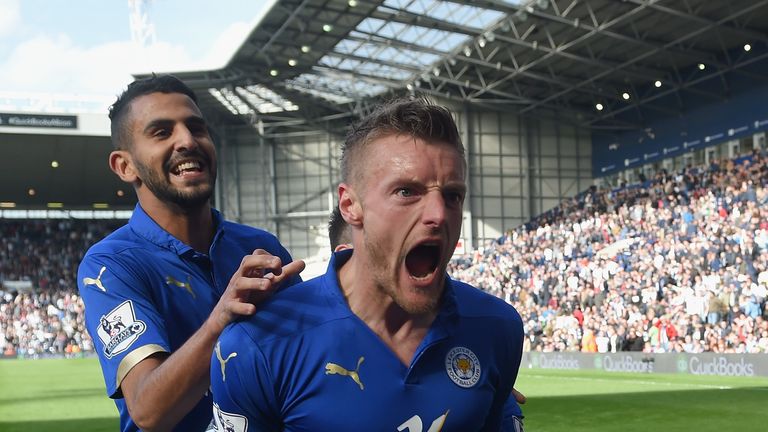 That meant that if Leicester's only remaining rival, Tottenham Hotspur, were to stand any chance of overtaking, they needed to finish the season with three consecutive wins. Things looked bright for Spurs when they took a two-goal lead but Chelsea fought back to draw 2-2 and in the process, Leicester City became the most unlikely of Premier League champions with two matches to spare.