WWE NXT results, winners, grades and reaction: Finn Balor and Rhea Ripley were fighting for titles on NXT
WWE NXT results, winners, grades and reaction: The first match of this show was expected to be a slug-fest.
Adam Cole defended his NXT Championship against Finn Balor, and this was going to be great. The Prince won a triple-threat match to become the No.1 contender after beating Tommaso Ciampa and Keith Lee.
The battle was gruelling, to say the least, and it seemed like Balor was going to win the title after kicking out of the Last Shot.
However, Johnny Gargano returned and distracted The Prince which allowed Cole to hit another finisher and pick up the win.
Balor was then beaten up by a steel chair by the returning star and Cole kept his title.
Cole beats Balor
Grade A
This was a great match to kick-off NXT and both wrestlers went to their limits. Gargano coming out and causing Balor to lose is a good turn, and their rivalry should continue.
Also, Cole kept the title, and it will be interesting to see who his next challenger could be.
---
Dain vs Priest
Damien Priest had another tough clash on NXT as he took on Killian Dain.
However, Dain started off well by targetting Priest's ribs which severely affected his arsenal. Nevertheless, Priest kept on pushing and hit a double knee and a Reckoning to pick up the win.
Priest beats Dain
Grade C
The match was decent but it was a tough act to follow after the previous battle.
Priest did look great and it will be interesting to see how NXT pushes him next year.
---
Grudge match between Kushida and Grimes
Cameron Grimes and Kushida have been at each other's throats in recent weeks. They finally had a go at each other with Kushida wearing the hat he stole last week from his challenger.
The Technical Savage started extremely well but Kushida hit him hard with a lot of offence. However, it was Grimes that ultimately picked up the win with a Cave-In, something that Kushida avoided a couple of times in the match.
Grimes beats Kushida
Grade B
Kushida had only just returned a few weeks ago, and it was interesting to see that he got the loss.
Grimes is one of the best on NXT and this only increases his reputation. And there should be another round of this rivalry soon.
---
Garrett vs Shirai
Santana Garret faced off against one of the rising stars in NXT Io Shirai. The Joshi Judas was in great touch in this match and despite Garrett getting some hits at the beginning.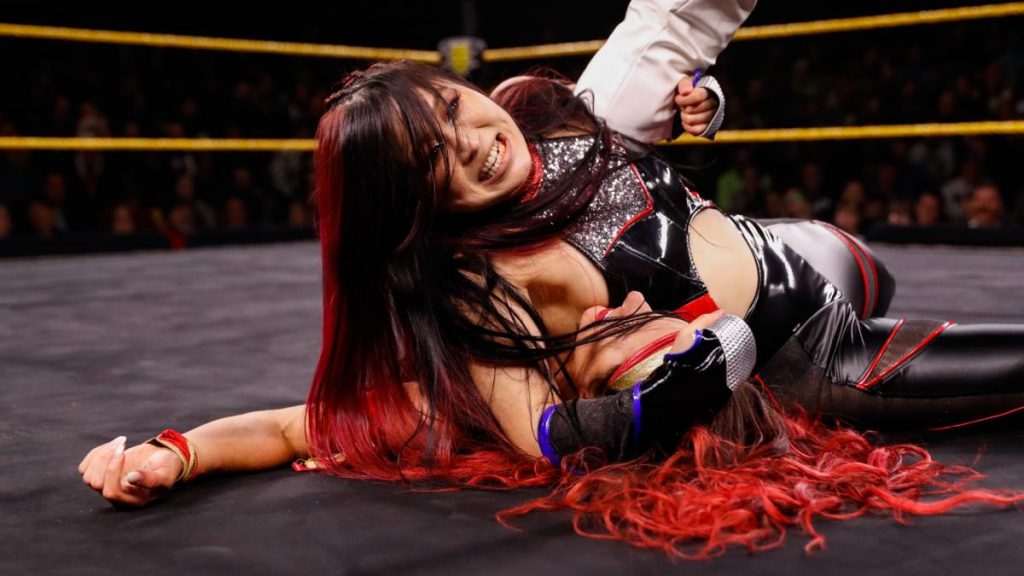 Shirai beats Garrett
Grade C
Shirai continues to look great in the ring and it should be a matter of time before she gets a top run for the Women's title on NXT.
---
Dunne vs Banks
This was another match which served as a preview for WWE Worlds Collide.
The Bruiserweight was excellent against the Kiwi Banks and assaulted him right from the bell.
However, the Kiwi Buzzsaw beat Jaxson Ryker last week and also had some decent hits at Dunne.
The Bruiserweight still ended up getting the win as he hit Banks with an X-Plex and then the Bitter End.
Dunne beats Banks
Grade B
Banks should get more airtime on NXT as he is genuinely a quality talent. However, Dunne looked good and it wasn't a surprise how great the match actually was.
NXT Women's title match: Shayna Baszler vs Rhea Ripley
The Nightmare Rhea Ripley was attacked by Shayna Baszler and the rest of her team a couple of weeks ago.
That was when the match was finalised and Ripley got her chance at some revenge. Marina Shafir and Jessamyn Duke ran down to help Baszler and the distraction helped the champion.
The referee was able to eject Shafir and Dyke while the official also took a knock. Ripley hit a Riptide but the ref was in no condition to make a count. The champion took advantage of this and used a steel chair to her advantage.
However, Ripley kicked out of a DDT on the chair and even survived a Kirifuda Clutch before hitting the champ with another Riptide and winning the title.
The entire NXT locker came out to celebrate with the new champion and Baszler's 400+ day reign came to an end.
Ripley beats Baszler
Grade A
A near-perfect way to end the episode and also allow a quality star to pick up the title. Ripley had been on an incredible surge in recent months and she deserved her shot.
Baszler has been great and it will be interesting to see how the story continues after the celebrations.
The match was epic too, and the angles of the referee getting hit and the distractions worked well.
Follow our dedicated WWE page for instant WWE news and updates