In the last few years, "expensive" transfer was redefined by Paris Saint Germain, whose owner, Qatar Sports Investments, has reached deep into its proverbial pockets to ensure that some of the best-known and highest-rated footballers join the club. Right now, the first and second-most-expensive players in football history play at the Parisian club – Neymar, the Brazilian football legend that PSG paid €222 million in 2017, and Mbappé, the most expensive teenager (he was 19 at the time of the transfer) that cost the club €135 million (plus €35 million in add-ons).
The fact that they won't be breaking any world records didn't stop teams from shopping around for players this year. More than a dozen of these involved amounts (or players, in the case of João Cancelo) in excess of €60 million – and many of them involved Premier League clubs. Although football is among the most-played sports in Ireland, Wales, and Scotland, it seems that England remains the place with the most valuable top-tier football league with the most money to spend. Let's take a look at the five most expensive player transfers that took place in 2019.
5. Romelu Lukaku, Nicolas Pépé, and Lucas Hernandez
There were three player transfers this year that reached the €80 million mark: Lucas Hernandez left Atlético Madrid for Bayern Munich, Nicolas Pépé switched from Lille to Arsenal, and Romelu Lukaku left Manchester United for Inter Milan. In the mid to late 2000s, this amount would've broken a world record – today, it's a lot more "common", if we can use this word.
Hernandez's transfer broke a club record for Bayern Munich, and Pépé, after joining Arsenal, is now the most expensive African player in history.
4. Harry Maguire
Maguire's move from Leicester City to Manchester United thought to be worth €87 million (£80 million), is another world record: if it is ever confirmed, it will have been the highest amount ever paid for a defender. A Sheffield native, Maguire went pro with his home town's top-tier club in 2011 but was lured over to Hull just three years into his career. Three seasons and one loan spell later, he switched sides again, joining Leicester in a £12 million transfer.
Finally, he ended up at Manchester United – the club reportedly made a £70 million bid for him that Leicester didn't accept, followed by an improved offer thought to be £80 million that they accepted in August.
3. Eden Hazard
The 28-year-old Belgian international has become a staple at Chelsea in the last seven years. He won the Premier League and the UEFA Europa League with the team twice, he was part of Belgium's World Cup squad and gathered accolades like Premier League Player of the Season in 2015, Premier League Playmaker of the Season in 2019, Chelsea Player of the Year in four consecutive seasons, and scored Chelsea Goal of the Year in three. Plus, while playing for the Belgian national team, he won Silver Ball at the FIFA World Cup in 2018, and the Belgian Sportsman of the Year award.
And this summer, he left Chelsea for the La Liga club Real Madrid in a transfer worth €100 million.
2. Antoine Griezmann
Griezmann started playing football at the age of six in his hometown Mâcon's local team. In the early 2000s, he made several trials with professional clubs to join their youth teams but none of them accepted him – ultimately, while on trial with Montpellier in 2005, he was spotted by the scouts of the Spanish club Real Sociedad – this resulted in his first contract as a youth. Turning senior he joined the club's first team, spending five seasons at the club. Ahead of joining the senior team of the Spanish side, he was courted by several Ligue 1 and Premier League teams, like Manchester United and Arsenal.
In 2014, he was signed by Atlético Madrid after the latter paid his €30 million buyout clause. Three years into his career with Atlético, his buyout clause grew to €100 million, and that was before he helped the club win the 2017–18 UEFA Europa League semifinal and final – and being part of the victorious French squad at the 2018 FIFA World Cup. Griezmann was rumored to transfer to several clubs over his five seasons with Atlético – ultimately, it was Barcelona that paid his €120 million buyout clause and signed him for five years.
1. João Félix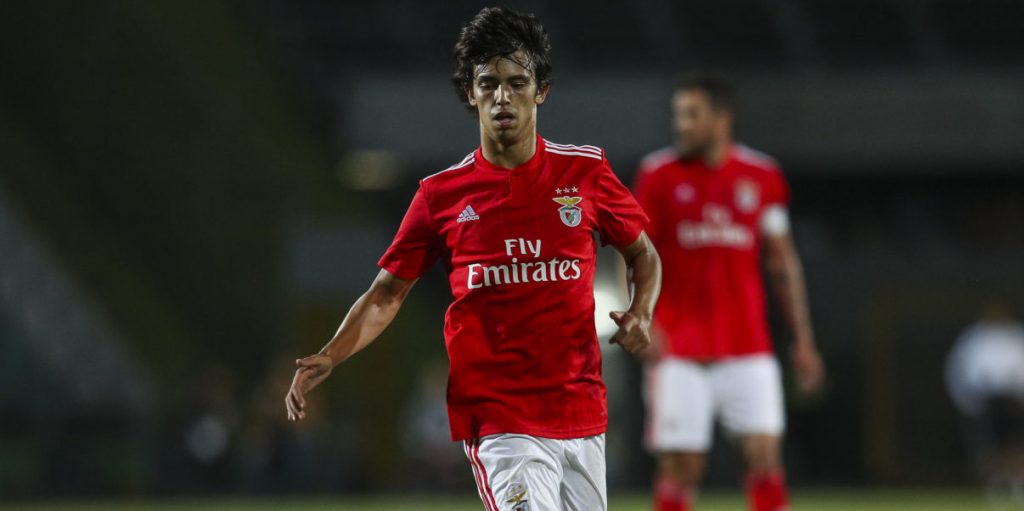 With a transfer contract worth €126 million, Benfica wonderboy João Félix is the most expensive football player to be transferred this year. He started playing at Os Pestinhas in 2007, at the age of eight, before joining the youth team of Porto a year later. In 2014, Porto let him go because of his slight frame. He joined Porto's rival Benfica soon afterward, spending his last three seasons as a youth there. After playing several matches for Benfica's B team since the age of 16, he joined the club's first team in 2018. He has proven to be a versatile player. He is often compared to Kaká and praised for his amazing understanding of the game.
Although he didn't play in too many league games for Benfica, he attracted the interest of several major clubs – it was Atlético that ultimately signed him in the third-most-expensive transfer in football history.