5 Instances when Premier League teams swapped players between themselves
Swap deals between clubs playing in the same league are rare occurrences in football, especially in the Premier League, where the clubs are rather reluctant to sell their star players to their rivals. Even if they do agree to do business, outright cash is what most of the clubs look for in the market.
In the summer of 2009, Inter Milan and Barcelona shook up the footballing world with one of the most audacious swap deals ever in the history of the game, exchanging two of the continent's most prolific strikers, Samuel Eto'o and Zlatan Ibrahimovic.
One of the earlier instances of a swap deal in the La Liga since the turn of the century came way back in 2004 when Deco made his way to Barcelona, with his compatriot Ricardo Quaresma heading back to Porto following a lean spell at the Catalan club.
When it comes to Serie A, we have even seen bitter rivals Inter Milan and AC Milan exchange players in the past, with the swap deal involving strikers Antonio Cassano and Giampaolo Pazzini in 2012 being one of the prime examples in recent times.
Coming back to the Premier League, one would really have to take a long and hard walk down the memory lane to recall the instances when English clubs gave their seal of approval to swap deals.
Well, instances of Premier League clubs interchanging players between themselves are very rare and with that in mind, let us take a look at a few occasions when players in England have actually switched boats to join their rivals.
1. Alexis Sanchez / Henrikh Mkhitaryan
One of the most high-profile swap deals ever in Europe, the swap deal between Arsenal and Man United involving Armenian playmaker Henrikh Mkhitaryan and Chilean forward Alexis Sanchez just has to be at the top of this list.
Both Arsenal and United valued their prized assets at £35million, meaning that there was no exchange of cash when the two attackers switched clubs in January 2018.
Sanchez, who was supposed to be out of contract at the Emirates in the summer of 2018, had racked up 80 goals and 45 assists in 166 appearances for the Gunners and helped Arsene Wenger's side to two FA Cup crowns prior to his move to Man United.
Mkhitaryan, on the other hand, had played a key role in United's Europa League triumph in the previous campaign but his sudden loss of form prompted the Red Devils to get him off their books.
The swap deal dominated the headlines in the British tabloids for quite a long time but Man United came out as the obvious losers in the deal, as Sanchez struggled to settle down at his new club. He scored only 5 goals in 45 appearances until the end of the 2018-19 season, earning a staggering £500,000-a-week in the process.
On the contrary, Mkhitaryan hasn't been a raging success at Arsenal, not anywhere close to being the playmaker that he was at Borussia Dortmund in his earlier days, but he has bettered Sanchez's exploits at Old Trafford, nevertheless.
2. Gylfi Sigurdsson/Ben Davies and Michel Vorm
Turning back the pages to the summer of 2014, Tottenham Hotspur and then Premier League outfit Swansea City completed an impressive swap deal, with Welsh left-back Ben Davies and Dutch goalkeeper Michel Vorm heading to North London in a part-exchange deal which saw playmaker Gylfi Sigurdsson return to the Liberty Stadium for a second spell.
Sigurdsson had spent time on loan at Swansea City from German club Hoffenheim in the 2012 season prior to his permanent move to the Welsh club in 2014.
The Icelandic international had largely underachieved during his three-year stint at Tottenham and a move to Swansea was supposed to offer him an escape route.
Ben Davies and Michel Vorm were both amongst the first-team regulars at Swansea in the 2013-14 season and while the left-back was brought in as a long-term prospect, the latter arrived at Tottenham to play second-fiddle to Hugo Lloris and simply make up the numbers.
Sigurdsson plundered 30 goals in 112 Premier League appearances for the Swans over the following three seasons before earning a big-money move to Everton in 2017. Ben Davies continues to battle Danny Rose for a spot in Tottenham's first-team.
Vorm went on to make only 47 appearances over five seasons at Tottenham before departing upon the expiry of his contract in 2019.
3. Kenwyne Jones/ Peter Odemwingie
Well, this is not one of those swap deals involving high-profile names or big clubs but Cardiff City and Stoke City did grab the headlines in January 2014 when they completed a player-exchange deal involving Kenwyne Jones and Peter Odemwingie.
Odemwingie had only arrived at Cardiff City in the summer of 2013 after a prolific spell at West Brom and the Nigerian was forced to join Stoke just six months later, having fallen out of favour with then Bluebirds manager Ole Gunnar Solskjaer.
Jones, on the other hand, had netted 28 goals in 117 appearances for the Potters over the course of four-and-a-half seasons prior to his move to South Wales.
The ploy to bring in the Trinidadian didn't pay any dividends though, as the towering forward only found the net just once in 11 appearances and failed to prevent Cardiff from going back down to the Championship.
Odemwingie's tally of 5 goals in 15 appearances for the Potters in the latter half of the 2013-14 season earned him a place in Nigeria's 2014 FIFA World Cup squad but he struggled with injuries thereafter and was eventually released at the end of the 2015-16 campaign.
4. Ashley Cole/William Gallas
The part-exchange deal between Premier League heavyweights Arsenal and Chelsea involving centre-back William Gallas and left-back Ashley Cole in the summer of 2006 sparked a massive debate in the British media over who had got the better deal.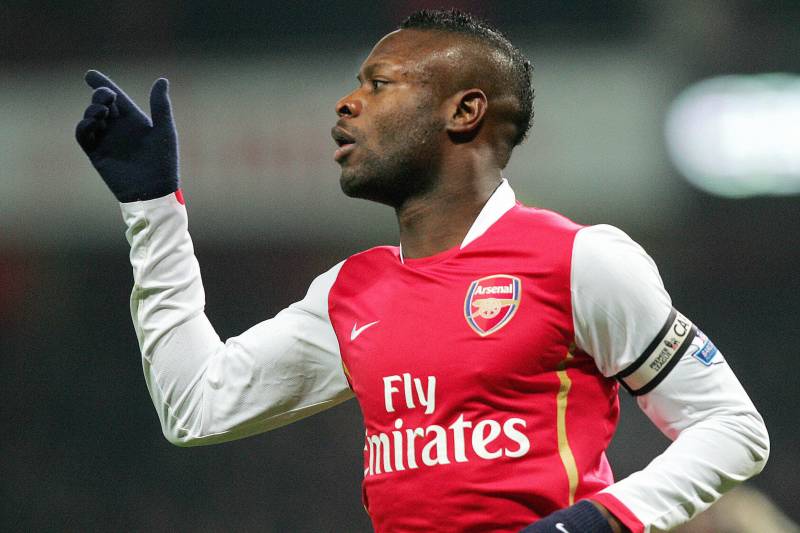 Cole, of course, was an integral part of Arsene Wenger's 'Invincibles' in the 2003-04 season and had won the Premier League twice during his time at North London, whilst Gallas had also won back-to-back Premier League titles with Chelsea prior to his move to North London.
Cole went on to win most of his England caps during his time at Stamford Bridge and bagged 9 major honours, including the UEFA Champions League, Europa League and four Premier League titles.
Gallas, on the other hand, did score for Arsenal against his old club but the Frenchman didn't reach the same heights in North London and spent four mediocre seasons before going on to join bitter rivals Tottenham Hotspur in 2010.
5. Kevin Davies/James Beattie
One of the earliest instances of a swap deal in English football before the turn of the century came when James Beattie arrived at Southampton as a makeweight in a deal that took Kevin Davies to Blackburn Rovers.
Davies struggled to settle down at Ewood Park and found the net only once in 21 appearances, as Blackburn Rovers suffered relegation to the Championship.
Coincidentally, Davies returned to Southampton just a year later in an exchange deal for Norwegian striker Egil Ostenstad before moving on to Bolton Wanderers for a career-defining spell.
Beattie initially struggled to find the net at Southampton due to injuries but he settled down after a couple of seasons and spent the most fruitful years of his career on the English south coast, with 23 goals in the 2002-03 campaign being the highlight.
Beattie netted 76 goals for the Saints in 235 appearances and earned 5 England caps.