Better than Teemu Pukki? – Here's the scout report of Norwich City's latest signing
Scout Report: Josip Drmic-Norwich City's new talisman
According to BBC Sports, Norwich City have completed the signing of Borussia Monchengladbach and Switzerland striker Josip Drmic on a three-year deal, with the 26-year-old set to join the Canaries on July 1 when his contract at his current club expires.
The newly-promoted Premier League outfit were in the market for a new striker to provide cover and competition for last season's standout performer Teemu Pukki, and Drmic's arrival is likely to create plenty of excitement amongst the fans at Carrow Road.
Drmic scored only 2 goals in 5 Bundesliga games for Monchengladbach this past season, with the 26-year-old missing large quarters of the campaign due to a back injury and muscle tear.
The Swiss international has had a really tough time in Germany over the past three or four seasons, with injuries severely restricting his involvement and playing a big role in his downfall.
Drmic's feat of bagging 17 goals for Nurnberg in the 2013-14 campaign, which was also his first ever season in the Bundesliga, led to him being widely dubbed as one of the brightest emerging prospects in Europe.
However, recurrent injuries over the years have stalled his progress and it would be fair to say that his influence in the Bundesliga has waned considerably, with the 26-year-old failing to replicate those numbers in the following seasons.
However, as far as Norwich City are concerned, manager Daniel Farke is likely to have a good knowledge of Drmic's skills in front of goal and bringing him in on a free transfer certainly eliminates the risk factor in the move.
The 26-year-old can be a devastating presence up front when he is fit and running at the top of his game. Although he hasn't been able to fire on all cylinders over the past few campaigns due to injuries, Norwich have every reason to hope that the Swiss international could add a lot of depth, quality and firepower to their attack.
Pukki racked up 29 goals and 9 assists last season to propel Norwich to the Championship title but Farke should be wary of his past struggles at Celtic and Schalke, meaning that the 29-year-old might find it difficult to get to grips with the quality and intensity of the Premier League.
And that is exactly the reason why the arrival of Josip Drmic is such an exciting proposition for the Canaries. As Norwich continue to prepare for the Premier League season, let us take a closer look at the latest addition to their squad – Switzerland's Josip Drmic.
Background
Born in Lachen, Switzerland, Drmic rose through the youth ranks of Swiss club FC Zurich and played regularly for the reserves before eventually earning his league debut back in 2010.
However, it was in the 2012-13 season that Drmic rose to prominence and enjoyed his first major breakthrough at Zurich, scoring 13 goals in the league and finishing the campaign with a tally of 19 goals in 39 games across all competitions.
Drmic's red-hot form in Switzerland attracted interest from Bundesliga strugglers Nurnberg, who swooped for him in the summer of 2013.
He made an instant impact in the German top-flight in his debut season and netted 17 goals over the course of the 2013-14 campaign, finishing 3rd in the list of top scorers behind the likes of Robert Lewandowski and Mario Mandzukic.
The striker's best efforts were not enough to save Nurnberg from relegation and Drmic earned a move to Bayer Leverkusen in the summer of 2014.
That, however, proved to be the beginning of his downfall, as Drmic managed to start only 5 games in the Bundesliga in the following season due to injuries, scoring 6 goals in the process.
Drmic once again switched boats in 2015 to join Borussia Monchengladbach but his career was already in a downward spiral by that time and his poor injury record saw him score only once in 13 appearances in the first half of the 2015-16 season before being shipped out on loan to Hamburger SV.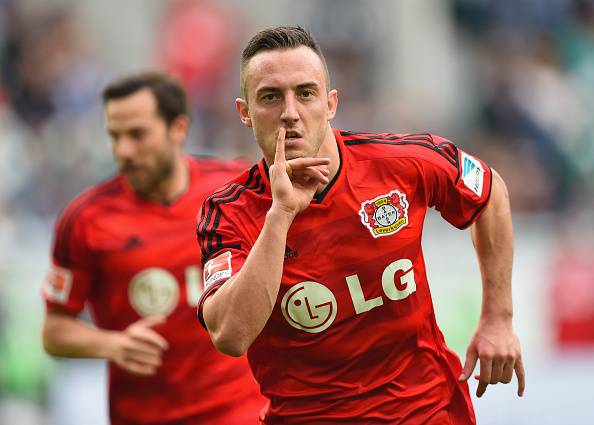 The Swiss international went on to start just 8 Bundesliga games for Monchengladbach over the course of the next three seasons, eventually ending his stint with a disappointing tally of 7 goals and 5 assists in 54 appearances.
The 26-year-old has accumulated a total of 10 goals in 32 senior appearances for Switzerland, representing his nation at the 2014 and 2018 FIFA World Cups.
Style of Play and Strengths
Standing at just around 6ft., Drmic doesn't really fall within the bracket of tall, towering or physically-dominant centre-forwards. However, he makes up for it with his good well-rounded attributes in front of goal, apparently combining the virtues of a pacey wide forward and an out-and-out clinical centre-forward.
Predominantly a right-footed attacker, Drmic is noted for his ambidexterity, as well as his versatility to play out wide on either flank and lead the line as a centre-forward.
When it comes to his strengths, two of his primary attributes which define his style of play are his pace and acceleration. That, coupled with his dribbling skills, sharpness, agility, exceptional close control and body balance, allow him to play off the shoulder of the last man and make his own space in front of goal.
Blessed with good spatial awareness for a centre-forward, Drmic combines his pace with his instincts to make well-timed runs behind the opposition's backline, whilst his upper body strength and ability to time his jump to perfection make him a genuine threat from aerial balls delivered into the box.
Another noticeable weapon in Drmic's repertoire is his technical ability on the ball, which allows him to bring the ball down with a sumptuous first-touch.
An intricate first touch allows a striker to create room and set up the perfect angle for a finish, which is often visible in the way Drmic puts his chances away with effortless ease.
Furthermore, Drmic is also quite good at linking up with his teammates to create chances and he does have the calmness and composure in crucial situations to grab his opportunities with both hands.
Weaknesses
As mentioned earlier, Drmic is a complete package who fits the bill of a versatile centre-forward with well-rounded attributes. However, going by the cliche that even the best of players come with their own set of drawbacks, the 26-year-old also lacks in some areas of his game.
The Swiss international is not particularly adept at holding onto the ball and bringing his teammates into play, while his propensity to make runs behind the backline makes him predictable at times and allows the opposition to use the offside trap to good effect against him.
His contribution to the defence can certainly improve but given his poor injury record, it would be unfair to push him too hard to track back and help out his defenders.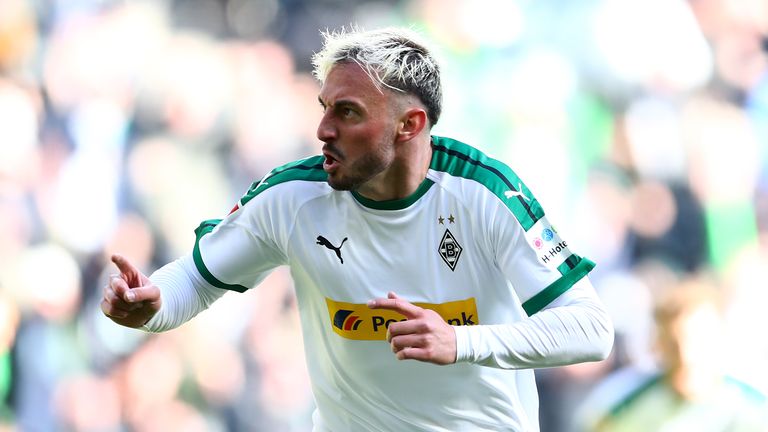 Conclusion
Drmic's stocks have been on the decline in recent seasons given that the Swiss international has found it hard to keep himself fit.
However, he continues to be a quality striker with a great technique and Norwich can certainly afford to look at him as someone who could provide cover and competition for Pukki.
To Read More Norwich City News, Click Here:- Latest Norwich City News
As a matter of fact, Drmic is a lot better than Pukki in terms of technical abilities and finishing, and few would dare to bet against the Canaries staying up in the Premier League if he manages to deliver the goods.
All in all, bringing the 26-year-old to Carrow Road for free could prove to be a piece of shrewd business by the club.

Sign up for our Weekly Updates!
You don't want to miss this