Arsenal or Tottenham, who needs PSG star Adrien Rabiot more?
The Mirror has reported that Arsenal have made their interest for PSG star Adrien Rabiot well-known, as the Gunners look to reinforce their squad for next season. However, it has also been revealed by the Daily Mail, that Tottenham are also among the many sides in the race for the out-of-contract Frenchman in the summer.
The 23-year-old has refused to sign an extension with the Parisians, which has effectively made him a free agent at the end of this season. This has been a massive cause for concern for the Ligue 1 giants, as they look to lose a crucial star for nothing. But for Rabiot, where should his next destination be?
If it were left to the midfielder, then there is no doubt in anyone's mind that he would choose Barcelona, but that's an unlikely scenario given their acquisitions. The La Liga giants have Arthur Melo, Philippe Coutinho, Arturo Vidal and even Kevin-Prince Boateng on their team-sheet, which is why adding Adrien Rabiot makes it look like over-kill.
Not only will a move effectively destroy his career, but the 23-year-old will also spend most of his time warming the bench at Camp Nou.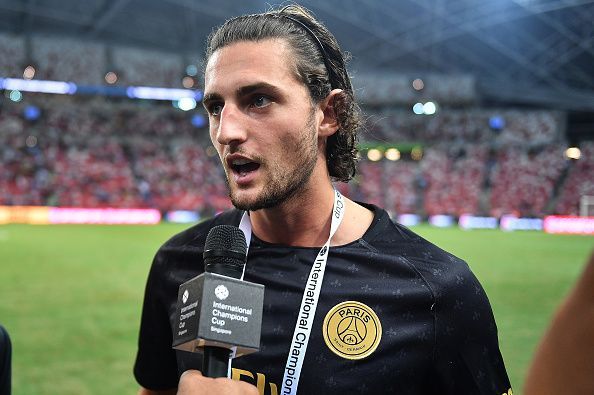 Meanwhile, both Arsenal and Tottenham keep their interest strong in the midfielder, with the Gunners leading the race. This is only because ESPN has reported that Adrien Rabiot feels that Tottenham are below him and would prefer a move anywhere else.
The Daily Mail has further added that given Unai Emery's connection to PSG, the Gunners do have the edge. But which North London club would be perfect for Rabiot to flourish and eventually hit the goals he's set for himself? Arsenal at the moment for all their faults are a club willing to do what it takes to move forward and have a new manager to guide them to success in the coming years.
Tottenham on the other hand, have a team good enough to challenge for the title, yet they could potentially lose their core group if they don't win a title in the near-future.
Read More: Arsenal have struck gold with the signing of £2m loan star and they should make it permanent in the summer
All in all, both sides need someone like Adrien Rabiot in their team, with Arsenal losing Aaron Ramsey and Tottenham losing Moussa Dembele. But in the end, given his relationship with Rabiot, it could be the Gunners who end up winning the race, but only if they convince the Frenchman that he's part of a core group of players challenging for everything.