Holding on to this 21-year-old star should be the way to go for Manchester United amidst interest from La Liga – Here is why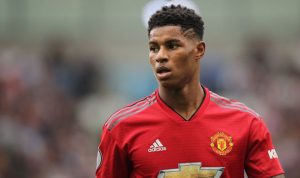 Manchester United must hold on to Marcus Rashford forever
Manchester United's Marcus Rashford is easily one of the best young players around and with Real Madrid looking to make a move for the forward (h/t Daily Mail), the Red Devils should make sure they don't lose their best star. The 21-year-old has been a revelation since his debut a few years ago, and has gone on to become one of Manchester United's crucial stars under Jose Mourinho and now Ole Gunnar Solskjaer.
However, if the club don't sort out its internal issues and even bring in new players they could lose the Englishman with a very bright future. A homegrown star, Rashford is among the few players in the Premier League that has been born and brought up in England, thus making him a valuable asset. Add to the fact that he's a Red Devil through and through which improves his chances of staying.
That's something that will not happen if the club doesn't give him a very lucrative contract, especially before a super-club comes after him. While Real Madrid's interest is purely rumours based at the moment, given the way the Los Blancos are going at the moment, they'll be looking for a long-term replacement than a short term.
The sheer fact that he's just 21 years old simply improves everything that Rashford has done so far for Manchester United. He's made just under 150 appearances, scoring 38 goals and producing a further 23 assists, but it's the fact that he's well on his way to his best figures this season with 5 goals and 6 assists.
Now that Romelu Lukaku is struggling to find the net, Manchester United will have to depend more on the 21-year-old over the next few months. The question, however, is can the club keep him with Barcelona and Real Madrid very interested (h/t Daily Express) in bringing him over? The answer has been revealed by the Mirror revealing that Rashford isn't going anywhere.
Read More: Forget about a January transfer – This £52m Man United star needs to grit his teeth and fight harder to seal a starting spot
This is brilliant news for the club, as they need all their stars to make sure, they somehow manage to fit for a place in the top five of the Premier League. While it may be a little out of their reach at the moment if they manage to keep the momentum going.