"Lack of creativity is ridiculous", "De Gea has been cloned": Some Man United fans livid after 2-2 draw to Arsenal + Match Report

Match Report: Manchester United 2-2 Arsenal
Arsenal and Manchester United played out an enthralling game of football at Old Trafford and shared a point apiece with a 2-2 draw.
David de Gea's goalkeeping error coupled with Ander Herrera's lack of awareness handed Arsenal an early lead just 26 minutes into the game. Shkodran Mustafi hit the turf with his header off Lucas Torreira's corner from the left and De Gea's attempt to flick the ball over the crossbar just wasn't strong enough. Herrera could still have saved United's blushed but the Spaniard was late to react and he cleared the ball after it had crossed the line.
United pushed forward after conceding the opener and found an immediate response. Marcos Rojo, who was playing his first game of the season, forced a good save from Bernd Leno off a free-kick and the Herrera reacted quickly enough to cut the ball back into the penalty area, which was turned in by Anthony Martial to restore parity at the half-hour mark.
Both the teams kept probing away at one another and tried to work the openings but another bizarre moment swung the pendulum in Arsenal's favour. This time it was Marcos Rojo who lost the ball inside his own half. Alexandre Lacazette exchanged passes with Henrikh Mkhitaryan and Rojo's last-ditch attempt to save himself resulted in an own goal. Replays showed that the last touch came off Lacazette but he did not seem to know much about it.
The lead did not last long for the Gunners and Jesse Lingard took advantage of some sloppy goalkeeping from Bernd Leno to get United back on level terms, just a minute after Rojo's own goal.  
While United seemed happy to see the game off, Arsenal pushed for the winner but the Gunners were denied by De Gea's goalkeeping heroics. Sead Kolasinac's inch-perfect cross from the left found Pierre-Emerick Aubameyang inside the box but De Gea was equal to the task, keeping out a goal-bound effort from point-blank range.
Unai Emery's men were gifted another chance to seal the game. Nemanja Matic has been poor all season and the Serb gave the ball away in a dangerous area outside the box. Henrikh Mkhitaryan created space from the right and Hector Bellerin's vicious effort from inside the box was kept out by De Gea, once again preventing United's demise in the dying stages of the game.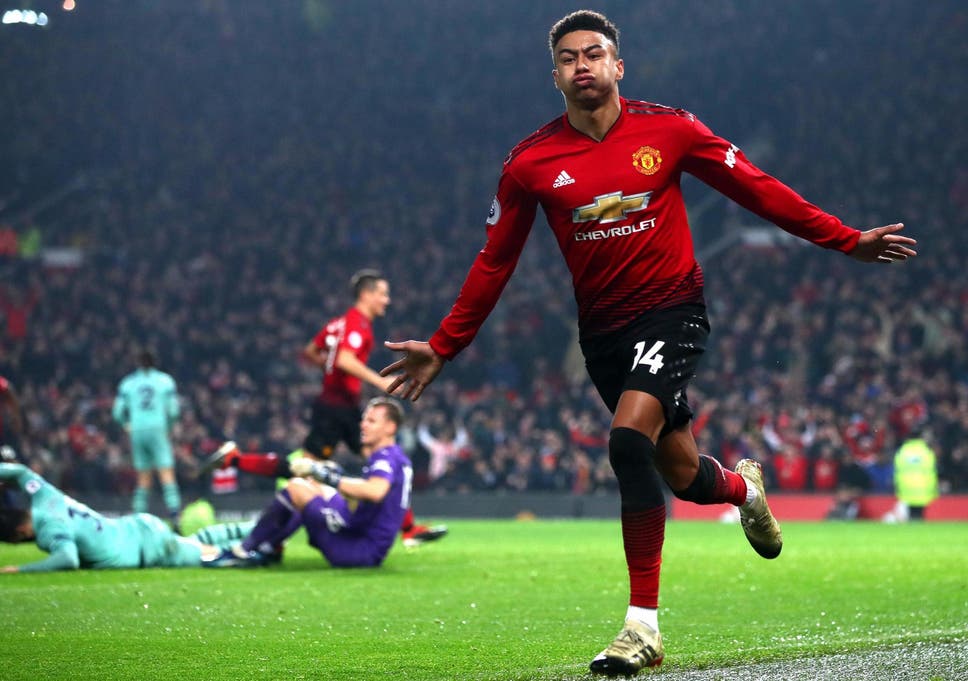 As things shaped up, it was a game marked by a comedy of errors and both the teams should be happy with a fair share of the spoils. Arsenal dropped to 5th in the standings while the Red Devils remained 8th, just behind Bournemouth on goal difference.
Fan Tweets
Last season, Matteo Guendouzi was playing in front of a few thousand for a second tier team.

Tonight he played in front of over 70,000 people at Old Trafford, representing the Arsenal and booed by United fans throughout because he'd rattled them so much.

My midfielder. pic.twitter.com/8QYlVg3Mig

— Chris Davison (@cdavison_afc) December 5, 2018
Man U 2 – 2 Arsenal

When I saw the first goal,

I began to think that De Gea has been cloned

This can't be the real De Gea, maybe David from Poland

— Ebube The Statesman (@akaebube) December 5, 2018
Tough game tonight, disappointed not to win, 20 unbeaten. Fans brilliant again. #afc #arsenal pic.twitter.com/HXzHIyEssf

— Stuart MacFarlane (@Stuart_PhotoAFC) December 5, 2018
Most impressive thing about that tonight was how Arsenal ended the game, given the intense nature of Sunday's derby.

Fitness and running levels seem through the roof. Injuries starting to be a problem though.

— Charles Watts (@charles_watts) December 5, 2018
Sky Sports didn't even mention this….surprise surprise… If a pull-back of the shirt is a booking, yanking someone's hair is a sending off, pure and simple…#Arsenal https://t.co/lorr4sjbBx

— Carl Bövis ⚽ (@CarlBovis_AFC) December 5, 2018
Big fan of what Emery's bringing to Arsenal, but undoubtedly my favourite is his ability to always look like he's standing in the rain pic.twitter.com/13GOP64wCw

— Chris Dixon (@chrismd10) December 5, 2018
People saying dalot was awful against arsenal are overreacting he wasn't brilliant but it in reality who expects him to be brilliant in his first start but he played better than Valencia has in a long time and his performance should excite you about the future #dalot #MUNARS pic.twitter.com/1XrdzYyWvb

— Basic United (@basic_united) December 6, 2018
Only realistic chance for major success this season is the FA Cup for Manchester United. No chance in Europe or in the Premier League. Top four also looks impossible. Season is practically done. Merry Christmas.

— Liam Canning (@LiamPaulCanning) December 5, 2018
The lack of creativity at Manchester United is ridiculous. Now find themselves 17 points off Liverpool and 18 points behind Manchester City after 15 games. Mental.

— Liam Canning (@LiamPaulCanning) December 5, 2018
Arsenal players are psychologically prepared that they can't win a PL game at Old Trafford. This negative mentality is an advantage to Manchester United. #WOLCHE#MUNARS but this is uncalled for. Managers must motivate their players pic.twitter.com/T05qhdEPUY

— Real Nick Lee (@RealNickLeeKe) December 5, 2018