Erik Lamela hold the key to Tottenham's success against PSV Eindhoven
Tottenham Hotspur have made a poor start to their Champions League campaign this term with two losses from their first two games. Placed in a potential group of death together with the likes of Barcelona, Inter Milan and PSV Eindhoven, it was always going to be tough for the Lilywhites to make it to the last 16. And they haven't done any good to their chances with back-to-back losses against Inter Milan and Barcelona.
They looked set for all three points away from home against Inter on matchday one but were hit hard by the home team's late heroics. Tottenham might as well look back at that game and regret if they fail to progress to the knockout stages.
To be honest, Pochettino's men were undone by a far superior Barcelona unit that looked head and shoulders above in all aspects of the game. The absence of Christian Eriksen, Dele Alli and Jan Vertonghen did not help their cause either and Lionel Messi ran the show at the Wembley to propel the Catalans to a 4-2 victory.
As things stand, it will be a must-win game for Spurs when they make the trip to the Philip Stadion to face PSV Eindhoven on Wednesday. Both the teams are yet to get off the mark in the Champions League this season and will need to turn their fortunes around. Barcelona and Inter Milan have won their first two fixtures and Spurs already have a lot to catch-up on to progress further.
PSV and Spurs have met only once in European competitions, in the last 16 of the 2007/08 UEFA Cup. Both the team won 1-0 away from home before PSV had the last laugh on penalties.
Barring a couple of slip-ups against Liverpool and Watford, Spurs have done reasonably well in the Premier League this season. In fact, The Lilywhites currently sit 4th in the Premier League standings with seven wins out of their first nine games.
However, they will have their work cut out against PSV Eindhoven on Wednesday. The Dutch giants have failed to win any of their last ten Champions League games, something that Pochettino should draw heart from.
Erik Lamela has played a key role since making his return from an injury that had sidelined him for the first four games of the season. He returned to the first-team against Liverpool, playing the last thirty minutes of his team's 2-1 defeat and got his name on the scoresheet. The Argentine was also impressive against Barcelona where he assisted Harry Kane before finding the net with a deflected shot.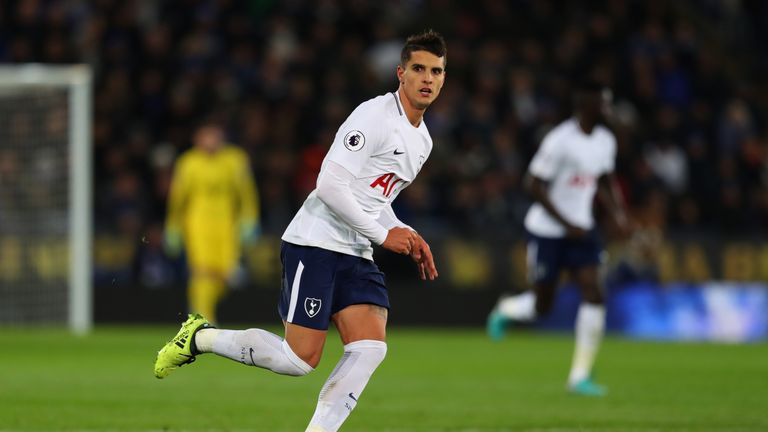 As a matter of fact, the 26-year-old has been very tidy with his link-up play when deployed as a supporting striker behind Harry Kane. He has caused a lot of problems for the defenders with his pace and skills and hasn't hesitated to switch positions in the final third. With Christian Eriksen back to full fitness, Lamela might find himself on the flanks against PSV but that should not have much of an impact on his performances.
The 26-year-old has bagged 3 goals and an assist from five appearances in the Premier League, four of which have come from the bench. Furthermore, he has already registered a goal and 2 assists in the Champions League.
With some stellar displays over the last few games, Erik Lamela is simply oozing with confidence and that is quite evident from the way that he has played so far. Hence, it would be fair to say that the 26-year-old will be one of the players to watch out for on matchday three of the Champions League.